THE ERA OF SECOND HAND DATA IS OVER
Use the value of all your unstructured data with Artificial Intelligence.
this is the percentage of un-structured data which are present on average in the companies.
(Gartner)
the
explosion

of unstructured data.
Un-structured data are growing exponentially. How can we optimize its management, which is very often limited? The need to analyse and use all types of data within a company is becoming increasingly evident: not doing so means ignoring 80% of usable information. To solve this problem it is necessary to automate the processes that manage and extract value from both unstructured and structured data, using a single framework capable of interpreting and organizing all available sources.

HIGITUS

: THE ARTIFICIAL INTELLIGENCE SOLUTION FOR BACK OFFICE AUTOMATION
Higitus automatically analyzes, processes, relates, verifies and archives all the data available to the company: streamlining, simplifying and efficient documental and administrative processes.
Thanks to an innovative semantic engine and Machine Learning algorithms, the system is able to simulate human cognitive abilities.
The quality of the analysis and the efficiency of the system are improved by the combination of the potential of semantic technology and those of «Natural Language Processing». Higitus also allows companies to identify and analyze hidden relationships between heterogeneous sources to extract relevant information to support strategic business processes.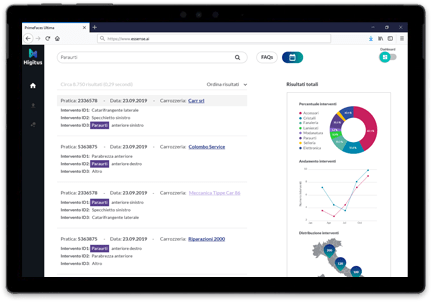 Classification into categories
The input documents are automatically classified by the system thanks to advanced statistical and semantic analysis of the text that allows their categorization.
Key concepts extraction
The information is extracted through natural language processing algorithms that allow to recover significant key concepts and entities and to automate business processes (Robotic Process Automation).
Indexing and research
Documents are indexed and archived. Data indexing allows the system to enable the search engine, allowing you to perform advanced and extremely performing searches.
The advantages you get with Higitus
Optimisation of process performance
Minimisation of risks related to human error, improving efficiency and ensuring the normalisation of activities with quality standards.
Customer care quality
Reduction of response times, increasing the quality of request resolution, with a significant improvement in customer satisfaction.
Reduction of costs and time
Reduction manual processes operative costs and time thanks to a level of automation of the processes that allows to better use the human capital.
Advanced scalability and performance
Ability to support any process and business need in a correct and efficient way, exploiting its full potential.
Control and prevention
Process monitoring and automatic detection of anomalies, improving the accuracy of fraud detection.
Flexibility
Simplify the management of back office processes.
Contact us for more information on our AI solution. Find out how Higitus can automate your business processes by analyzing, interpreting and categorizing all the unstructured data you have. Request more information from our experts.